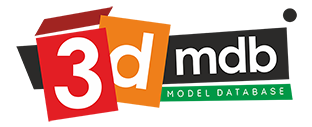 We have 2671552 3D models in our index. Check our shops
here
.
3dMdb.com is the unique database for 3d models. The platform is an aggregator that gathers 3d models from all over the world. There are more than 2,6 millions of 3d models indexed for printing, graphics, VFX, gaming. The search in the database uses English grammar and synonym dictionary.
Customers may filter the items per price or even look for a free 3d models in a special category. The items can be filtered by model type and by shops.
Modellers are welcome to do a web indexing of their 3d models.