Thingiverse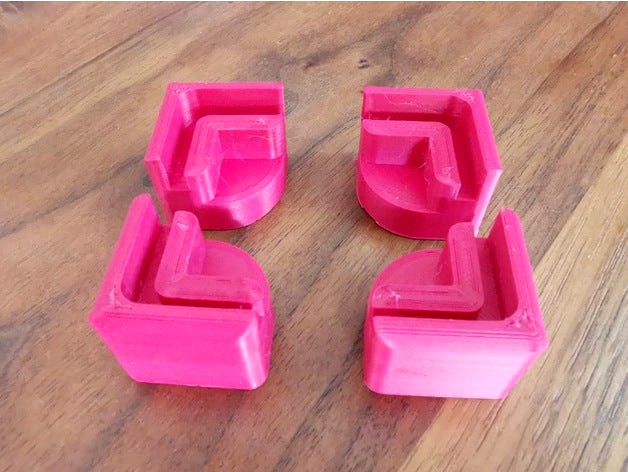 WD6 Soft Vibration dampeners by Javicom
by Thingiverse
Last crawled date: 2 years, 10 months ago
WD6 Vibration Damper (V1+V2)
The 4 vibration dampers are advantageous to print with elastic polymers such as PLA-Soft / PLA-Flex, or with thermoplastic elastomers (without volatile plasticizers) such as TPU (S-Flex). These elastic materials are easy to print with a direct extruder and effectively dampen vibrations and noise levels.
Type V1: Dimensions 252518 mm - printer is raised by 10 mm.
Type V2: Dimensions 282816 mm - printer is raised by 8 mm.
These vibration dampers are easily inserted under the 4 corners of the 3D printer. You do not need any additional material. With these vibrating damps, the printer floor also has a little more ground clearance, which benefits the cooling fan underneath.
WD6 Vibrationsdämpfer (V1+V2)
Die 4 Vibrationsdämpfer sind vorteilhaft mit elastischen Polymeren wie PLA-Soft / PLA-Flex, oder mit thermoplastischen Elastomeren (ohne flüchtige Weichmacher) wie TPU (S-Flex) zu drucken. Diese elastischen Werkstoffe sind mit einem Direkt-Extruder einfach zu drucken und die Vibrationen und Lärmpegel werden wirksam gedämpft.
Typ V1: Abmessungen 252518 mm - Drucker wird um 10 mm angehoben.
Typ V2: Abmessungen 282816 mm - Drucker wird um 8 mm angehoben.
Diese Vibrationsdämpfer werden einfach unter den 4 Ecken des 3D-Druckers eingesetzt. Sie benötigen keinerlei zusätzliches Material. Mit diesen Vibrationsdämfer hat der Druckerboden auch etwas mehr Bodenfreiheit was dem Kühlgebläse unten am Boden zugutekommt.