Thingiverse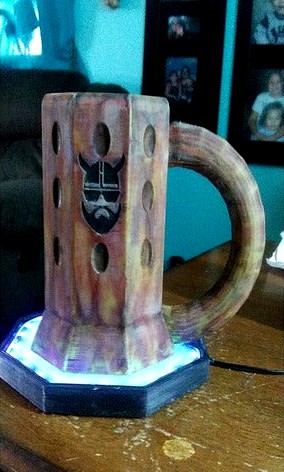 The Mug Of Giant Awesomeness
by Thingiverse
Last crawled date: 2 years, 9 months ago
So...the glow in the dark effect is very light, but it turned out well. The mug is glow in the dark green PLA with orange sharpies marker rubbed/ brushed down with acetone. The base is black PLA, with a ring of UV leads embedded in bar topping epoxy to make it waterproof.
This example was printed at 80% scaling on the mug.
Might make a different base with more upwards directed and brighter LEDs.
The marks on the back bear explanations.
The top is the rune stave "Aegishjalmur" , the Helm Of Awe.
The second is the rune stave " Vegvisir" , a Norse rune that supposedly always allowed one to find his way.
The third is the Thurs rune which stood for "giant" in Norse.
So I guess you could say..." May you always find your way to a giant awesome beer!!!"
Print in PLA at recommended settings for your filament. I did 0.4mm on a 0.4mm nozzle, but YMMV.
The woodtoning works best with a light color for a base. orange and green sharpies combine to make a nice brown when brushed or rubbed with acetone. Make long verticle marks like the woodgrain would be, then brush acetone on with a cheap chip brush or similar. Takes some training...I suggest a flat test piece and some practice.