Thingiverse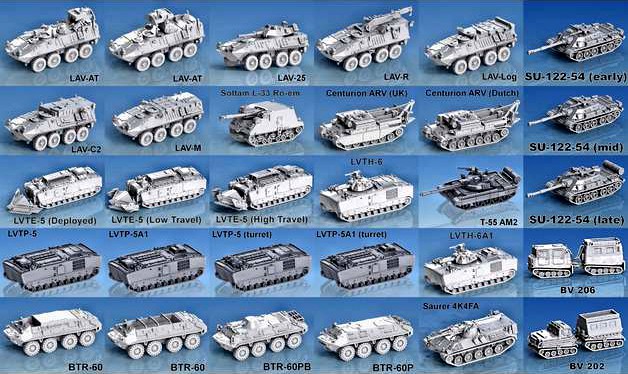 1-100 Modern Tanks and Vehicles (Duplicate) by m_bergman
by Thingiverse
Last crawled date: 1 year, 5 months ago
DUPLICATE COPY DUE TO 404 ERROR IN ORIGINAL
This copy will be removed when/if the original is repaired
THE FULL DOWNLOAD IS BROKEN AT THINGIVERSE'S END.
UNTIL THEY FIX IT, USE THE INDIVIDUAL ITEM DOWNLOADS.
IE Go to the "Thing Files" button and choose from the long list.
I have had to split my collection into two due to it getting too big for the site to handle.
1-100 WWII vehicles can be found here:
https://www.thingiverse.com/thing:3553160
Where packs contain both WWII and post-war versions, I have just duplicated them across both collections.
My definition of Commercial Use is:
ADVERTISING MY ITEMS FOR SALE
i.e. webshop, ebay, etc.
ALL other usage is non-commercial, as far as I'm concerned.
Word-of-mouth, requests, 3D hub stuff, all OK, at any quantities.
Commercial sales are licensed at 5% of retail price (ex postage, painting/finishing & sales tax). ( I don't believe in profiting from work that isn't my own.)
Payments are done monthly through Paypal.
100% of license fees are donated by myself to the MS Society of NZ.
If you feel the need for a commercial license, please contact me through the private message function here, including your email address.
These tanks are designed for EXPERTS only. If you don't already know the answer to your questions, please go instead to the 1:200 sets, which are much more forgiving to print.
Printed at 0.2mm layers, 0mm support limit, 80degree support angle in ABS on UP plus 2.
These models will be added to, on a random schedule.
You will find complementary vehicles and guns on TigerAce1945's page:http://www.thingiverse.com/TigerAce1945/designs
Current vehicle list:
Germany:
DKW Munga /4 4 seat 1/4t field car
DKW Munga /6 6 seat 1/4t light pickup truck
DKW Munga /8 8 seat 1/4t light pickup truck
Leopard 2A4
Leopard 2A5
Leopard 2A6
UK:
Charioteer VII
Centurion III
Centurion V
Centurion AVRE
Centurion ARV
USA:
M45 Pershing
M46 Patton
M47 Patton
M1A1 Abrams AIM
M2A1 Bradley
M3A1 Bradley
MRAP Cougar 4x4
MRAP Cougar 4x4 JERRV
MRAP Cougar 6x6
MRAP Cougar 6x6 HEV
MRAP Cougar 6x6 JERRV
M1126 Stryker ICV
M1126 Stryker ICV with CROWS-J
M1127 Stryker RV
M1133 Stryker MEV
M1134 Stryker ATGM
M1296 Stryker Dragoon
LAV-25
LAV-M
LAV-AT
LAV-C2
LAV-R
LAV-Log
LVTP-5
LVTP-5A1
LVTH-6
LVTH-6A1
LVTE-5
M548 cargo carrier
M113A1
M113A1 ACAV
M577A1 command vehicle
M106A1 107mm mortar carrier
M125A1 81mm mortar carrier
M163A1 Vulcan
M901A1 ITV TOW launcher
M981A1 FIST-V
Dodge M37B
Dodge M42B Command car
Dodge M43 ambulance
PACV SK-5 hovercraft
Hydraulic Excavator 320D
Hydraulic Excavator 321 LCR
Russia:
IS-2M
IS-3
ISU-152M
T-54
T-55
T-55A
T-55 AM2
T-62
T-64
T-64R
T-64A
T-64B
T-64B1
T-64BV
T-72A
T-72M1
T-72B
T-72BV
T-72BM
SU-122-54
ZSU-57-2
BRDM-1
BRDM-1 AT-1 Snapper
BRDM-1 AT-3 Sagger
BRDM-2
BRDM-2 rebuild
BRDM-2UM command vehicle
BRDM-2 9M14M AT-3 Sagger
BRDM-2 9M66 AT-5 Spandrel
SA-9 Gaskin
BMP-1
BMP-2
BTR-40
BTR-40A
BTR-40B
BTR-152
BTR-152A
BTR-152E
BTR-152K
BTR-152S
BTR-60P
BTR-60PA
BTR-60PB
BTR-70
Australia:
Centurion V (Aus)
Centurion V (Aus) Dozer
M113 AS4
Austria:
Saurer 4K4FA-G2 schutzenpanzer
Canada:
Lynx
Netherlands:
Centurion ARV (dutch version)
DAF YP-408
DAF YA-126
M113 C&R
Israel:
Soltam L-33 Ro-em 155mm SPG
Norway:
NM135
NM145 TOW launcher
Sweden:
Bandvagn 202
Bandvagn 206
Custom Section
Vehicles are either reworked versions of my 1:200 tanks, or newly drawn. All models drawn in Solidworks. Parasolid versions included in the zip files.
All vehicles printed sitting on their tracks. All turrets printed with their guns horizontal.
Printed at 0.15mm layers, 0mm support limit, 80degree support angle in ABS on UP plus 2. Obviously a finer Z resolution would look better, but it's a matter of time-to-print which determined my choice.
I advise that you in all cases clear out the support from between the tracks underneath the vehicle first. This will enable the outside support structure to be levered off without too much trouble.
In cases where the support doesn't want to come free, cut carefully down through the supports beside the model with a sharp xacto knife to break the support.
Printing on the Form 2 in 1:200 scale, I sat the vehicles and turrets up on their tails, set contact points to 0.5mm.